Cahir Castle, Tipperary, Ireland
Cahir Castle is one of Ireland's largest and best preserved castles. It lies on an island in the river Suir, now situated in the town centre.
It was originally built by Conor O'Brien, Prince of Thomond in 1142 on a site of an earlier native fortification called a cathair (stone fort). This is where the name Cahir derives from.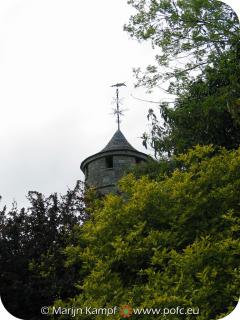 The castle was granted to the powerful Butler family in late 14th century. They enlarged and remodelled the castle between the 15th & 17th century to its present appearance. In the 1840's the castle was partly restored by Richard Butler,  the thirteenth Baron Cahir, replacing the Irish battlements with stronger English ones.
In 1961 the last Lord Cahir died and the castle reverted to the state.
Battlements and portculis
Artistic impression
This is an artistic impression based on photographs of the outerwall as can be seen from the river side gardens.
More photographs