Fethard Castle - Medieval Castle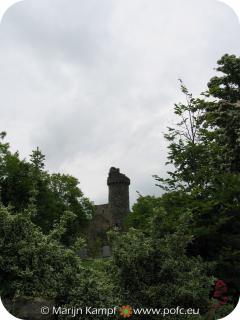 After the Anglo-Normans arrived in Ireland in 1169 Fethard (Fiodh Ard) was granted to the knight Hervey de Montmorency.
The Fethard area was first granted to a knight Hervey de Montmorency after Anglo-Normans arrived in Ireland in 1169. He later granted it to Christ Church, Canterbury, England.
Canterbury constructed the castle at Fethard presumable on the site of the present castle. The bishop of Ferns disputed Canterbury's claims and said to have been in possession of Fethard in pre-Norman times. Fethard thus became one of six manors in the diocese.
The castle in the twelfth century appears to have been a motte-and-bailey type. The low earthen motte or mound still survives.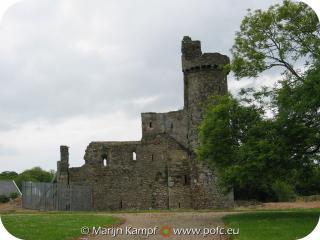 The bailey was later transformed into a moated courtyard-type castle with gate tower and drawbridge.

What is seen today are most likely remains of the castle built by the bishop of Ferns in the 15th century. It was used as a defended residence, making use of the earlier gate tower and the gable of a single story house. An L-shaped fortified hall house linked them together.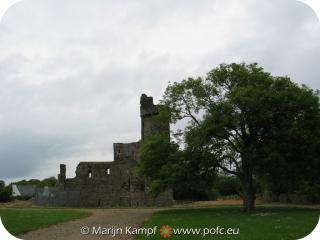 Fethard castle passed to the Loftus family in the early 17th century. The family members lived there until moving to Loftus Hall on the Hook peninsula. It was then much altered and occupied by tenants of the Loftus estate until it was finally abandoned in 1922.

Not much remains today of the castle. The castle grounds are without charge, but it is only possible to walk around the castle. The inside of the much ruined castles are locked off by big gates.
More photos Fethard Castle