Pictures of Dublin Castle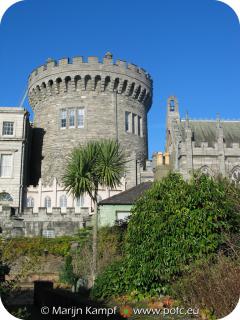 The round Record Tower is the oldest intact part of Dublin Castle. The other buildings all have been added or changed in later reconstruction works.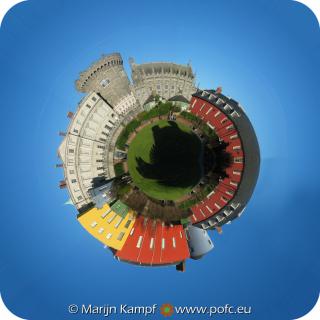 The Record Tower is an intact medieval Norman tower from 1226 AD. It was formerly a top security jail for State prisoners. It now housed the Gardia (Irish Police) Museum.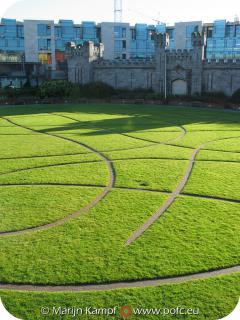 Dublin Castle maze and coach house. The 'Dubhlinn' Gardens where created in 1680. Dublin gets it's name from the sheltered dark pool or harbour that occupied this area from ancient times. Dubh means black in Irish.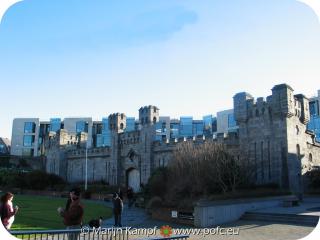 The Coach House was build in 1830. With it's mock Gothic stone façade, is now a conference and dining venue. Originally it housed the Lord Lieutenant's coach and string or horses.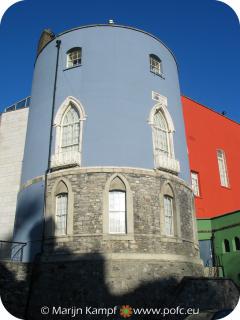 Bermingham Tower was the South-West corner of the 13th century castle. It was used in the 16th century for the detention of State prisoners. In 1775 it was damaged by a gunpowder explosion and was taken down to its base. It was rebuild in a more slender fashion in 1777. Various 19th century additions were removed in 1988, so that more of the tower can now be seen.
 
 
A square tower was built adjacent to and contemporary with the 13th century Bermingham Tower. It was described in 1585 as being 3 storeys high. The juxtaposition of a square and circular tower is unusual, but it is probable that the square tower was an integral part of the town defences. It was reduced in height in the 17th century and may then have been used as a gunnery platform.
More photographs of Dublin Castle