Pictures of Raglan Castle
Raglan Castle is an impressive castle. The views from the Great Tower are very impressive on a clear day. Even if the weather is less nice, it still offers loads of interesting nooks and crannies to discover.
Panoramas & Views
On a clear day the Towers of Raglan Castle offer great views of the surrounding country side.
 
The Gatehouse
The Great Gatehouse was added by Lord Herbert of Raglan - later earl of Pembroke in the 15th century. He also added the Pitched Stone Court and rebuilt the Fountain Court with a series of formal state apartments for himself and his household.
The Great Tower
Sir William ap Thomas began building the Great Tower around 1435. The Tower was probably build on the site of a much earlier Norman motte and bailey castle. The unusual hexagonal plan of the tower, together with its elaborate drawbridge arrangements are more easily paralleled in France than in England. Inside there was a single large room on each floor.
 
At the outbreak of the Civil War, Raglan was garrisoned for the King. By 1646 the castle was under siege. After one of the longest sieges of the war and after pounding by heavy artillery the then Marquess of Worcester was forced to surrender. The fall of Raglan Castle virtually marked the end of the Civil War. Cromwell's demolition engineers, however had some trouble, only after undermining the walls they were finally able to bring two of the six sides down.
Details
Medieval stonemasons used to mark their work with little drawings. The stonemasons' markings can be found on many of the stones in Raglan Castle. Also note the circular gun ports in the lower part of the gatehouse.
Courtyards
A number of courtyards have been built at Raglan over the years. The Fountain Court contains the site of a fountain, and the pitched stone court contains a well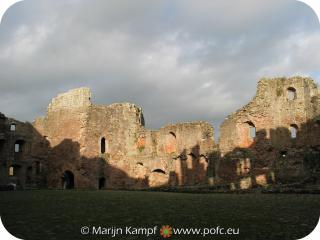 .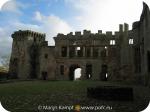 Other pictures from Raglan Castle
Text based on Wales Castles & Historic Places, CADW / Wales Tourist Board 1990.